Dr. Richard Jordan Smoot of Sound Endeavors, LLC, is one of the leading classical guitar, music composition, music theory/ear training and music technology teachers in Columbus, Ohio with almost four decades of experience teaching at all levels in these subject areas.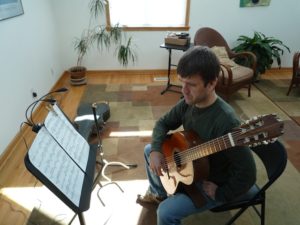 Sound Endeavors is a state-of-the-art production/teaching studio owned and operated by Dr. Smoot, and located in the Upper Arlington suburb of Columbus, Ohio.  Dr. Smoot's services are based upon his many years of composing, performing, and teaching (both in academia where he was an Associate Professor of Music and as a private studio owner) as well as his extensive work in music production, consulting and experience as an arts mentor.
A new visitor to this website will notice that the Sound Endeavors studio is located at a residential address in the Upper Arlington suburb of Columbus, Ohio.  The studio is only attached to Dr. Smoot's residence.  It is, in fact, a totally separate reality….a fully functional production and educational studio with its own facilities and separated from the residence by a steel door.  In 2010, after 18 years of operating Sound Endeavors at commercial locations along Grandview Avenue in the Grandview Heights, Ohio area, the new 780 sq.ft. Sound Endeavors studio was opened in Upper Arlington, Ohio. This studio was designed from basic plans suggested by Dr. Smoot and is a beautiful, spacious, sound proofed studio with state-of-the-art equipment and software.  Indeed, students park on Northam Road and come directly to the studio, not the residence.  Students love coming and working in this beautiful space.
It is important to note that Richard Jordan Smoot is a busy, practicing composer and artist. Students at Sound Endeavors benefit in many ways by being part of this creative environment. This beautiful space offers the perfect environment for creative work, and clients as well as students, can realize their goals comfortably. Indeed, studies at Sound Endeavors can include work with the latest music technology with hands on production opportunities offered to students, depending on the program of study desired. Dr. Smoot loves to work with beginners and advanced students from all walks of life.
Please take a look around this website and if you want more information about any of our services or simply wish to discuss your musical and artistic aspirations, call us at 614/397-9164 or send us a message via the Contact area.  At your request, a free initial visit to the studio can be arranged to discuss your interests and ways that Sound Endeavors can assist you.
Thank you for visiting!