General Information
Sound Endeavors is the home of Dr. Richard Jordan Smoot, one of Columbus, Ohio's Leading Classical Guitar and Composition Teachers, offering music lessons to Columbus, Ohio and Central Ohio, including Upper Arlington, Ohio, for over thirty years.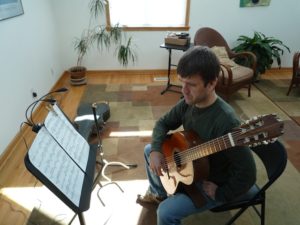 Sound Endeavors is a unique studio in that students may focus upon their areas of interest and enjoy the benefits of a program designed particularly for them. Lessons are offered to students ranging from beginning to advanced levels of study. Guitar instruction can involve intensive study of the classical guitar, finger picking techniques to help solo guitarists and techniques for singers wishing to use guitar as an accompaniment. But study may also serve young people wanting a good start on this instrument and adults looking for a relaxing avocation.
Instruction in composition, theory and ear training is available for students at all levels of experience.
A limited number of apprenticeships are available for students seeking a highly immersive program of study at reasonable monthly rates.
Sound Endeavors offers specialized music instruction with composer and classical guitarist, Dr. Richard Jordan Smoot, in the following areas with more information available in the the pull-down menu at the top of this page:
Classical Guitar Instruction
Composition & Songwriting
Music Theory & Ear Training
Music Technology
Apprenticeship and Internship Program
All programs are tailored to individual students needs and all lessons are offered as private one-to-one instruction. The apprentice program is administered on a limited basis and students are carefully selected for this course of study. Please contact Sound Endeavors for specific information about rates and availability of times. You may also call 614/397-9164. A brochure with complete information is available upon request.