Dr. Richard Smoot/Sound Endeavors offers beginning to advanced instruction in classical guitar as well as lessons designed to assist individuals who wish to use the guitar for song accompaniment purposes.
Bringing his many years of performance and teaching experience to bear, having taught both at the college-level and as a private guitar teacher, Dr. Smoot offers in-depth, personalized instruction and takes his students from  beginning to advanced levels of study.  Students play everything from Bach to Brouwer with a focus upon the diversity of the repertoire along with the history of this beautiful instrument.  As a  composer who has written numerous works for guitar, including multiple concertos, guitar ensemble works, trios and solo works that have been broadcast internationally and performed at venues like Lincoln Center, Dr. Smoot's understanding of the guitar literature and the subtleties of technique is strong.
Since building the new Sound Endeavors studio with its extraordinary acoustics and beautiful environment, students have been able to enjoy participating in regular student recitals. In addition, more involved studio concerts are being planned for the future.  Accordingly, the last student recital was held on March 15, 2015 and featured 26 compositions ranging from beginners to advanced players. It was an overwhelming success.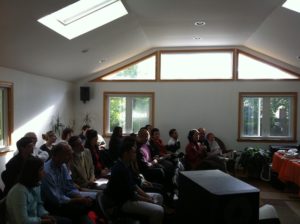 The audience for the October, 2013 Sound Endeavors student recital.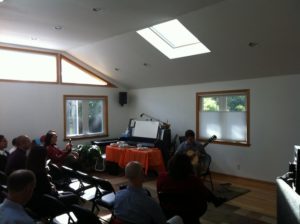 Student Daniel Payne in a stellar performance of Se io m'accorgo at October, 2013 Sound Endeavors recital.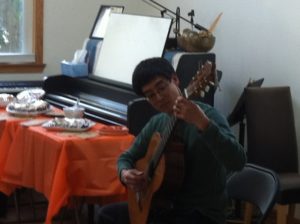 Professor/Student Joe Tien wowing the audience with Piazzolla's Verano Portena. Refreshments to his left are ready for students and audience members.
—————————————————————————
The focus of study for singer/songwriters is upon more advanced (classical) right hand technique that will greatly enhance their presentation of songs.
—————————————————————————
Check out the Testimonials area for feedback from students regarding the study of guitar and music in general at Sound Endeavors.