Dr. Richard Jordan Smoot is the owner of Sound Endeavors studio in Columbus, Ohio.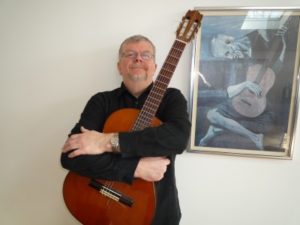 Smoot, who grew up in Connecticut, has been creating music since he was nine years old, studying trombone and piano at that time. He began teaching himself to play the steel string guitar when he was 11 years old. This strong interest in guitar eventually led to advanced study in classical guitar, and he began teaching guitar professionally in the late 1970s, specializing in classical guitar, but also applying classical techniques to other styles of playing.
All along Smoot was composing and studying music composition, eventually receiving his doctorate in music composition. His academic endeavors have included specialized work in electronic and computer music as well as music perception.
Smoot was an Associate Professor of Music for many years at Ohio Northern University and also taught at The Ohio State University. He has taught a wide variety of music courses at these institutions including composition, music theory and ear training, music history, music technology and classical guitar. He has led a new music ensemble and organized many concerts.
Sound Endeavors was founded in 1992 as Smoot made the transition from academia to the world of studio ownership and with the intention of spending more time working as a free-lance composer. For over two decades, Richard Smoot has offered various courses of music study at Sound Endeavors, teaching students of all ages and all levels of experience. Many of his students have gone on in music professionally as composers, performers and music teachers. But as important, many of his students study for the pure enjoyment and therapeutic effects of music.
You may learn more about Richard Jordan Smoot by visiting RichardSmoot.com where you can read his composer's biography.